Tell us a bit about yourself and h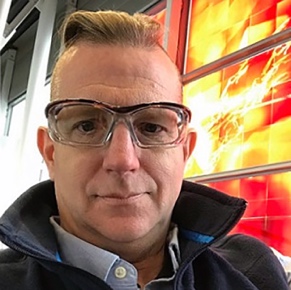 ow you became involved in the geohazards industry.
 I became involved with Radar Monitoring in 2006 and for over 12 years have deployed, supported, and advanced new businesses with radar monitoring tools. Developing and applying near real-time data for geohazard activity began in 2007 with the Ferguson Slide in California on Highway 140. Later in Washington State and Colorado, specific events were supported with radar instrumentation and techniques. The challenges involved with growing a business model included expensive hardware, limited field expertise, and sectoral unfamiliarity with near real-time data.
IDS GeoRadar NA opened offices in Golden, CO in 2009.  Initially, two staff members operated out of their apartments.Now we have around 14 staff members that work from a 15,000 square foot office and product support center.  I began my relationship with IDS GeoRadar in 2014 and immediately saw how their game-changing radar tool (less costly, higher resolution, easy deployment) would immediately expand monitoring opportunities.  Their products' affordability, the speed of acquisition, and reliability were paramount in advancing our monitoring services.  Additionally, senior management support allowed us to trial and try equipment deployments where radar had not gone before.
Each day we are entering new frontiers, all for the benefit of geohazard professionals and citizens in communities across the country.
What are some of the unique services/products that IDS GeoRadar has which could benefit other members of our association?
IDS GeoRadar NA and our Geomatics Services Group offer a unique and transparent opportunity to leverage current firms' professional and consulting skills and offerings while adding dynamic and near real-time data acquisition, management, and analysis opportunities where ever a Geohazard may exist, threaten, or need proactive monitoring. We seek to empower and apply the user's skills in enhancing their deliverables. This effort has been proven time and again to benefit the end-user, the consulting & geoprofessionals, and our interests – in concert. The radar itself has seen two generations of development in just a few years – with exciting breakthroughs to come in 2019:
With IBIS-ArcSAR we can scan 360 degrees in 45 seconds, these units are available now.
Our first "real-time" radar the Rock Fall radar, will soon be available and deployable where imminent risks exist.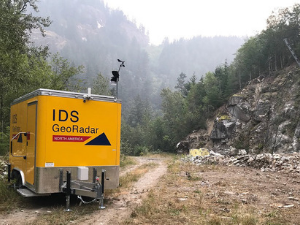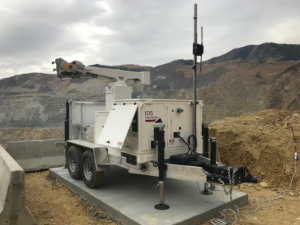 What markets/regions do you service?
IDS GeoRadar NA serves North America and currently have over 70 Radar units in operation 24/7 across the region.  Additionally, we offer support to IDS GeoRadar clients worldwide as a part of their global coverage and support capabilities.  The majority of our customers are in mining environments; we are working hard to improve awareness, safety, and opportunity in the government and civil works sectors. AGHP has been a tremendous part of our success in this sector.
What was one of the more interesting or challenging projects you have been involved with that required specialty solutions?

The years 2015 to 2017 presented us with specific and significant challenges because, as a manufacturer, we did not have a "Services" arm. We were aware of the limited staff and resources challenges of our civil works and DOT colleagues, so we started broadening our vision.
We responded to unique events in this time frame including:
A train derailment (fatality) in Labrador, Canada.
A fatality at a major dam site in Quebec
A research project at a dam in Wyoming
A dam monitoring deployment in Pennsylvania
A 4-unit deployment in support of Caltrans during the 2016-17 landslides events along CA-1, CA 101, and CA 140 that involved:
24/7 monitoring support for Caltrans
Daily monitoring in support of Geohazard event mitigation and remediation activities.
Support during rope access & geotechnical asset infrastructure installation in Alaska.
Deployment at the Oroville Dam in support of ALC/LCI/DWR.
It was an intense period, and we saw our Services income pass $1M.
2018 saw the creation of the Geomatics Services Group within IDS GeoRadar NA. We now have full-time geo-professional experts, a licensed Geologist, and a radar data analysis & reporting service group available on a full-time basis.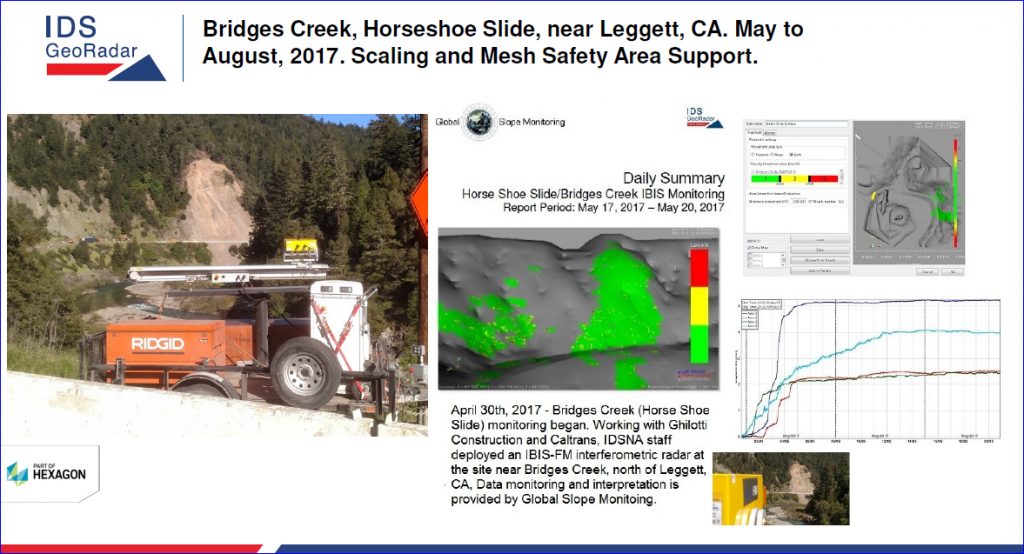 In your eyes, what are two benefits of the AGHP?
The association offers IDS GeoRadar NA a concentrated and unbiased opportunity to share our successes, lessons learned, and to get advice & support from our peers within the industry.  Recently we've formed a Monitoring and Instrumentation Committee that provides webinars on instruments, techniques, and is a forum for like-minded manufacturers, vendors, consultants, and end users to listen, seek advice, and promote safety for operational support opportunities globally.
What are your thoughts on how the AGHP can help the geohazards industry grow in the future?
At IDS GeoRadar NA, we feel that the association is a crucial element in the broadening of the awareness, techniques, solutions, and benefits of Geohazard mitigation and monitoring. We value our peers, members, and their clients as colleagues and resources in the ongoing support for enhancements to public safety, operational efficiency, and fiscal responsibility.
To learn more about geohazard monitoring, contact John at +1 303-726-6024 or john.metzger@idsgeoradar.com