PURPOSE OF THE ORGANIZATION
The Association of Geohazard Professionals (AGHP) was created in 2013 to support the development of standards, specifications, and best practices concerning the design and implementation of geohazard-related technologies and products; and to support and provide education to the geohazard community and those it serves.
GOALS OF THE ORGANIZATION
The Association aims to create a stable of resources that will support the purpose of the organization and the promotion of best practices in the geohazards field. The Association leadership is formulating high-altitude goals based on the needs of both the geohazard community and the communities influenced by and benefiting from geohazard technologies.
Current goals and related deliverables include:
Standardization & Certification
Resources Test Method
Development Generic
Specifications Design Guidelines
Certification Programs for Companies Certification
Programs for Technicians
Resource Development Webinars
Speakers Bureau
Online Presentations
Conference Papers
Other Publications
Outreach
Short Courses at Conferences
Workshops
Communication with Agencies and Academia
Graduate Program Speakers
Integration of Geohazard Information into Non-Geohazard-Specific Events
GEOGRAPHIC SCOPE
Because many of the Association's goals are related to supplementing and promoting standardization, certification and specification of geohazard technologies and solutions, the initial focus of the association will be North American.
ORGANIZATIONAL CHART
The structure of the Board of Directors is designed to:
Ensure that each type of member has a voice with regard to the direction of the Association
Engage as many relevant perspectives as possible
Facilitate efficient interaction with the Executive Director / Management Company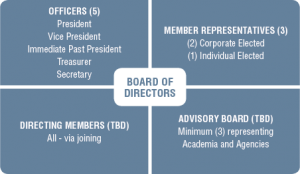 Officers, Member Representatives, Directing Members and Advisors make up the Association's Board of Directors.
Officers are elected from the Directing and Corporate Membership and may serve a maximum of two consecutive terms in any one position. Corporate Member Representatives are elected from the Corporate Membership.
There are 6 Membership Categories in the AGHP:
Directing Members
Corporate Members
Agency Members
Individual Members
Student Members
Emeritus Members