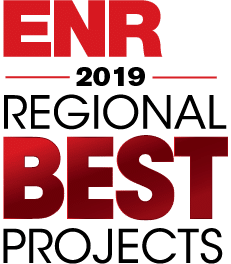 Engineering News-Record (ENR) Mountain States recently recognized GeoStabilization International® as their Specialty Construction "Best Project" award winner for the Stillwater River Road Project in Stillwater County, Montana.
The original mitigation plan for the unstable pillars above the Stillwater River road was to anchor them with rock bolts and high-tensile wire mesh. When GeoStabilization's Rockfall Remediation Technicians inspected the site, they realized a lower cost and more expedient solution would be to remove the pillars. When a standard rockfall barrier large enough to safely catch the falling debris was unavailable, GeoStabilization's engineers devised a method to bring down the pillars using a less robust barrier in combination with an earthen berm.
The resulting mitigation solution cut the project's cost significantly and allowed the county to remediate four additional rockfall zones along the road. The ENR project writeup can be found here.