Workshop Covering Advanced Topics in Rockfall Mitigation
March 23, 2017 @ 7:30 am

-

4:00 pm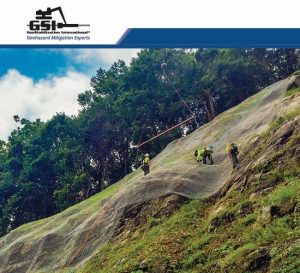 The event will be held Thursday, March 23rd in the Mountain View Room at the Hampton Inn, Pikeville KY.
To register for the event, please contact:
Paul Travis, E.I.T. at
paul@gsi.us
or by phone at 
859.200.5347
Brian Edwards, E.I.T. at
brian@gsi.us
or by phone at 
859.629.5698
SCHEDULE
Workshop opens at 7:30 a.m. and starts 8:00 a.m.
Presented material will include:
Rock Mass Properties and Data Collection
Rock Slope Analysis Tools including Stereonets, Markland's Analysis, RockPack III,
and other Tools
Shear Strength & Safety Factors * Large Rock Formation Stabilization – discussion of different anchoring methods and their installation
Rock Slope Stabilization Mitigation Design Considerations
Mechanical Scaling Tools and their Application
Rockfall Mitigation Methods – their products & applications
Case Studies & Design Parameters
Working Lunch – Box lunch will be provided
GCS Wall Site visit
"Hatfield" and McCoy Rockfall Stabilization Site Visit
US 23 Rockfall Field trip -US 23, MP 15.8
Marty Woodard PhD, P.E., P.G.
Regional Engineer, GeoStabilization International
Justin Anderson, P.E.
Project Development Engineer, GeoStabilization International
Project Development Engineer, GeoStabilization International
Project Development Engineer, GeoStabilization International