Symposium on the Application of Geophysics to Engineering and Environmental Problems (SAGEEP) 2017
March 19, 2017

-

March 23, 2017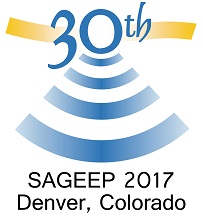 EEGS is excited to announce that SAGEEP will be co-located with the National Ground Water Association (NGWA) spring meeting March 20 & 21. This opportunity will bring together a diverse audience from a wide range of backgrounds, including both EEGS and NGWA membership. All technical sessions will be open to both groups. In addition to the SAGEEP technical program, the NGWA conference will feature talks and posters with a focus on two topic tracks: Applications of Hydrogeophysics to Groundwater Characterization, Monitoring, and Management & Deep Groundwater Applications.
SAGEEP is internationally recognized as the leading conference on the practical application of shallow geophysics. First held in 1988 at the Colorado School of Mines, the 30th Anniversary SAGEEP will return to Colorado to celebrate this important milestone and is being held in Denver, Colorado USA March 19-23, 2017. We invite you to visit the SAGEEP 2017 pages for details on abstract submissions, hotel reservations and conference registration as more information becomes available.
For the past 30 years, SAGEEP has been held over a 5-day period at locations throughout the United States, with approximately 150 oral and poster presentations, several educational short courses and workshops, numerous vendor presentations, and a commercial exhibition. A set of proceedings, composed of technical presentations, is distributed on CD or USB memory drive (ISSN 1554-8015) and accessible online via the EEGS Research Collection.