GeoOttawa 2017
October 1, 2017

-

October 4, 2017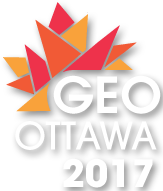 The Canadian Geotechnical Society (CGS) in collaboration with the Canadian National Chapter of the International Association of Hydrogeologists (IAH-CNC) invite you to GeoOttawa 2017, the 70th Canadian Geotechnical Conference and the 12th Joint CGS/IAH-CNC Groundwater Conference. The conference will be held at the Shaw Centre in Ottawa, Ontario, Canada from Sunday, October 1 to Wednesday, October 4, 2017.
The theme for GeoOttawa 2017 is "70 Years of Canadian Geotechnics and Geoscience". The organizers will build on this conference theme throughout the technical program and social activities and plan to remind delegates of the extensive contributions of geotechnical and hydrogeological practitioners to Canada's built form since the Canadian Geotechnical Society was founded 70 years ago. In addition to the technical program and plenary sessions, the conference will include a complement of local tours and short courses.
As Canada's capital, Ottawa is a showcase city of more than one million people. Located in Ontario at the Quebec border, it's a city steeped in culture, with world-class museums and galleries displaying stunning national collections and special exhibitions from Canada and around the world. And as 2017 is Canada's sesquicentennial, Ottawa will be the epicentre of our country's 150th birthday celebrations that GeoOttawa 2017 will be sure be a part of.
Within walking distance of national sights, historic landmarks and numerous hotels and restaurants, the Shaw Centre is Ottawa's hub for meetings and events and will be the official venue for GeoOttawa 2017. Our partner conference hotels – The Westin, Lord Elgin, Les Suites and Novotel – are only minutes away from the Shaw Centre and together will provide first rate accommodation for delegates.
Ottawa's character, national treasures, natural beauty, exciting night life and relaxed urban vibe will certainly add to the experience of attending GeoOttawa 2017.