AGHP Member Todd Hansen works out of Denver, Colorado for Yeh and Associates, a full-service engineering and construction management company that is involved in several different geohazard-related fields. Key sectors of his work include landslide and rockfall applications. Part of the company's success, Hansen notes, is rooted in the extensive experience its company leadership has from careers working within major agencies, such as FHWA, CDOT, and Caltrans.
"The benefit of working with former DOT folks," Hansen says, "is that I get to see both the perspective of the transportation official trying to fund every project they can and the private sector consultants who can devote more time to specific projects."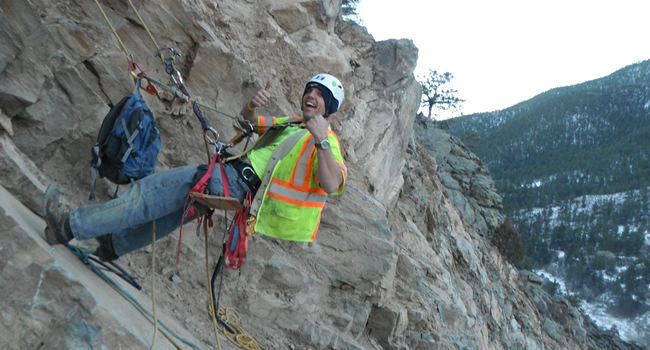 Hansen takes full advantage of having so many experienced engineers and technical experts available to him throughout Yeh's workforce. He regularly calls colleagues to gauge their thoughts and to hear of project and solution examples that his company peers had used in their previous professional roles. These interactions allow him to expand his own expertise and understanding while keeping relationships and a culture of recognition strong within his immediate office and between Yeh's other locations.
"I know if I'm going to keep doing this I need to learn as much as I can before all the experts stop taking my calls," he says. "Either that or they'll get wise and start billing me at their expert testimony rate."
Though the company has grown significantly, it retains the same "family feel" that Hansen recalls from his earliest days with the firm.
"I see a determination to keep that camaraderie and cooperation throughout the company," he says.
TODD HANSEN – AN EARLY INTEREST IN GEOHAZARDS
One of seeds for Hansen's future career was planted in childhood. He visited Mt. St. Helens. Visits like this, images he saw of the destruction from that volcano's eruption, and stories he heard from loggers (including those who lost friends in the blast) captivated him.
"Seeing the cars and equipment buried by the pyroclastic ash flow in that moonscape and off in the distance there was that steaming resurgent dome," he says. "I didn't know what I was going to do when I grew up, but one way or another I was going to find a way to get inside that crater."
That wonder and a steady presence of the timber industry in his early life guided him. He ran survey tape through blackberries and thorns. He helped lay out roads with logging engineers and burned off timber slash piles.
"Blasting road cuts with a bunch of half-deaf loggers was a lot of fun," he says.
In summers, he took up fighting wildfires to pay for school.
"I thought nothing could beat being a professional arsonist," he says.
Bob Watters at the Mackay School of Mines provided the next big change for Hansen. Watters introduced him to the geohazards industry—a field in which Hansen could get paid "to destroy things" (while making everyone safer).
"While I do like the fact that we are paid to go outside and knock big rocks down, I've met very smart scalers who can read a loose rock pile the same way a cutter can tell which way a tree is going to fall," he says. It's a bridge to his childhood. "I see many parallels between the timber and geohazard industries and it has not been a surprise to run into other folks with similar experiences.  Both are difficult, physical jobs that are hard on your body but you have to be smart too."
THE IMPORTANCE OF AGHP INVOLVEMENT
"For me AGHP is about collaborating with professionals from across the nation with the equally understood goal of developing standard baselines for all of us as geohazard specialists," Hansen says. "We need to represent ourselves to the world at large, as all too often we are ignored or even worse lumped in the wrong field."
One of the field's problems, he says, is that the general public has almost no awareness of the scale on which geohazards professionals work and all the beneficial impact their efforts have on infrastructure and community safety. Only a few high-profile planned projects might get discussed. Beyond that, the subject of geohazards really only emerges on a larger level when something goes wrong.
"That's why it's an important thing is for us to collaborate on mitigation methods and developing standards," he says. "When we share our general knowledge and work together to advance the geohazard industry, we not only elevate each other but [build] credibility for our profession."
Hansen shares his expertise with his peers on the AGHP Rope Access Committee.
"I feel like it is my duty to find out about every accident that applies to our line of work," he says. "Any sort of industrial accident on rope is something we as rope practitioners all need to be aware of, or else we leave ourselves open to the same mistake."
He appeals to other AGHP members to share their experience with rope access issues. The standardization body ANSI, for example, is updating the Z359 code (ANSI/ASSE Z359.1, Safety Requirements for Personal Fall Arrest Systems, Subsystems and Components). AGHP members, Hansen says, need to be involved.
To learn more about the Rope Access Committee and other AGHP committees, visit the Committees Page.
To learn more about the work of Yeh and Associates, Inc., visit www.yeh-eng.com.