International Course on Geotechnical and Structural Monitoring
June 13, 2017

-

June 15, 2017
The 4th International Course on Geotechnical and Structural Monitoring, organized again by Paolo Mazzanti and directed by John Dunnicliff, will follow the same general format of past successful editions. However, some relevant innovations will characterize this edition, such as the venue and a significantly renewed panel of speakers.
Following the great success of the 2016 course, also in this edition three special sessions will be dedicated to the presentation of the new trends on geotechnical and structural monitoring covering the following topics:
New Trends in Contact Monitoring
New Trends in Remote Monitoring
New Trends in Offshore Monitoring and Data Transmission and Management
Furthermore, the most challenging Case Histories will be selected by those submitted by course participants and will be part of the course schedule.
However, the most relevant news will be the Master Classes, led by international experts the day before the official beginning of the Course, specifically oriented to provide practical basic know-how on use of the most common monitoring systems.
Take a look at the Official Schedule of 2017 Edition.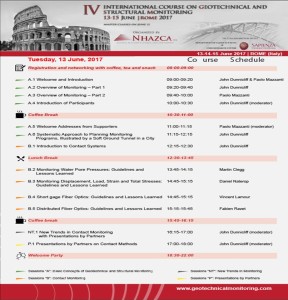 Topics
This is a course for practitioners, taught by practitioners with wide field experience. The emphasis is on why and how to monitor field performance.
The course is structured in 3-days course (13-15 June, 2017), 1-day Master Classes (12 June, 2017) and a half day Field trip (16 June, 2017).
The main course will cover the following main topics:
Basic concepts of monitoring and planning
Contact Monitoring methods
Remote Monitoring methods
Vibration Monitoring
Offshore Monitoring
Management, analysis and interpretation of data
Interactive sessions
Case-histories, given by international leading experts
Open forum
The following Master Classes (held the day before the official beginning of the course) are planned:
Master Class on Piezometers
Master Class on Inclinometers
Master Class on Extensometers
Master Class on Total Stations
Master Class on GNSS
Master Class on Terrestrial Radar