View this webinar on-demand by logging into the Member Center. If you are not a member, we encourage you to join.
---
Cougar Creek – From Devastation to Construction of Mitigation Works
---
The 2013 floods in Alberta were devastating for many communities. In Canmore, extreme rainfall, exceeding 250 mm over three days, led to debris floods and debris flows that damaged homes, businesses, and infrastructure. Flood protection works previously constructed to protect existing development suffered either extensive damage or complete loss. On Cougar Creek, an ephemeral creek with less than 5 m3/s subterranean base flow, the large debris flood peaked at more than 80 m3/s and carried upwards of 90,000 m3 of debris through the man-made channel. This debris flood eroded banks and caused extensive damage to private properties, as well as municipal and provincial infrastructure. In response to the devastation, the Town of Canmore began a program of hazard and risk assessment, option analysis and mitigation design, resulting in the Cougar Creek Debris Flood Retention Structure (the Structure). It consists of a 34 m high rock-filled embankment dam, a low-level outlet, a rock-cut spillway, and associated channel works. The Structure impounds water and debris only during flood events, not during regular operations.
The project provides significant risk reduction to the downstream development that includes hundreds of private properties and businesses, municipal and provincial infrastructure, as well as the Trans-Canada Highway and CP tracks. Once the project is in place, in case of a debris flood event, the risk reduction required will be achieved by lowering the peak flow through the development to a maximum of 45 m3/s, and by reducing the large quantity of debris entrained in the flood.
The design takes into consideration the 2018 Alberta Dam and Canal Safety Directive, as well as the 2007 Canadian Dam Association (CDA) Dam Safety Guidelines (2013 Edition). The Structure is classified as a Very High consequence dam, primarily due to the potential for loss of life and economic risks.
The project received regulatory approvals in June 2020. Construction started shortly after, with the contractor mobilizing to site on June 29, 2020. The project is currently in its second year of construction. To share the Town of Canmore's learnings and to inform regulators, consultants and dam owners, the work undertaken by the Town of Canmore over the last several years was presented.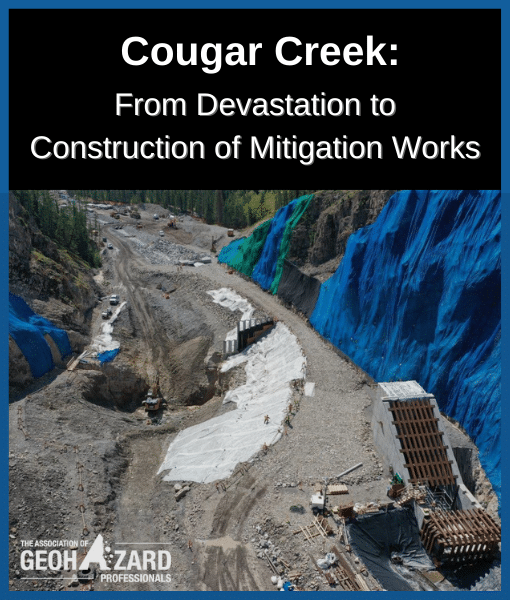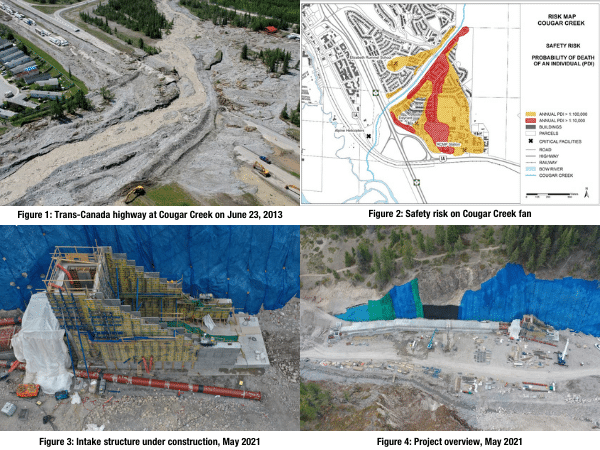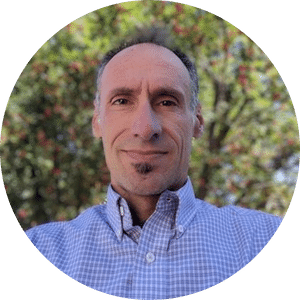 Project Engineer, Town of Canmore
---
Félix Camiré, P.Eng., is a Project Engineer for the Town of Canmore. In this role, Felix has been responsible for leading capital projects for flood rehabilitation, hazard and risk assessments, and mitigation works, including all phases of the Cougar Creek project design, environmental impact assessment, permitting, and now construction.
---